The Canyons Metropolitan District No. 7 is the entity within your community that is responsible for several aspects of both the construction and ongoing operations for the area within The Canyons in which you live. The District was created (see "Documents" for service plan) for the purpose of building and funding the infrastructure that supports the community, such as roads, parks and open space, facilities, water, sanitary sewer and storm drainage. The District will continue to operate certain aspects of the infrastructure, such as parks and open space, and is also responsible for design review and covenant enforcement within the community. This website provides information about the formation of the District, as well as useful links and documents to help you with landscaping, design review, and covenants. Welcome!
Notice to Canyons Residents
Project: Canyons Filing 1-2nd Amendment, Phase 1 & Filing 1 West Concrete R&R
Operations start 12/5/22 and anticipate to complete 1/31/23
District Map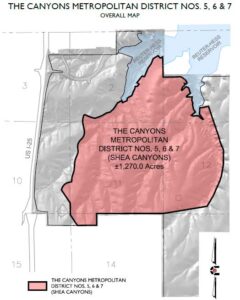 Transparency Notice
Pursuant to section §32-1-809, Colorado Revised Statutes, Transparency Notices must be provided annually to the eligible electors of the district no later than January 15 of each year.
What is a Metropolitan District?